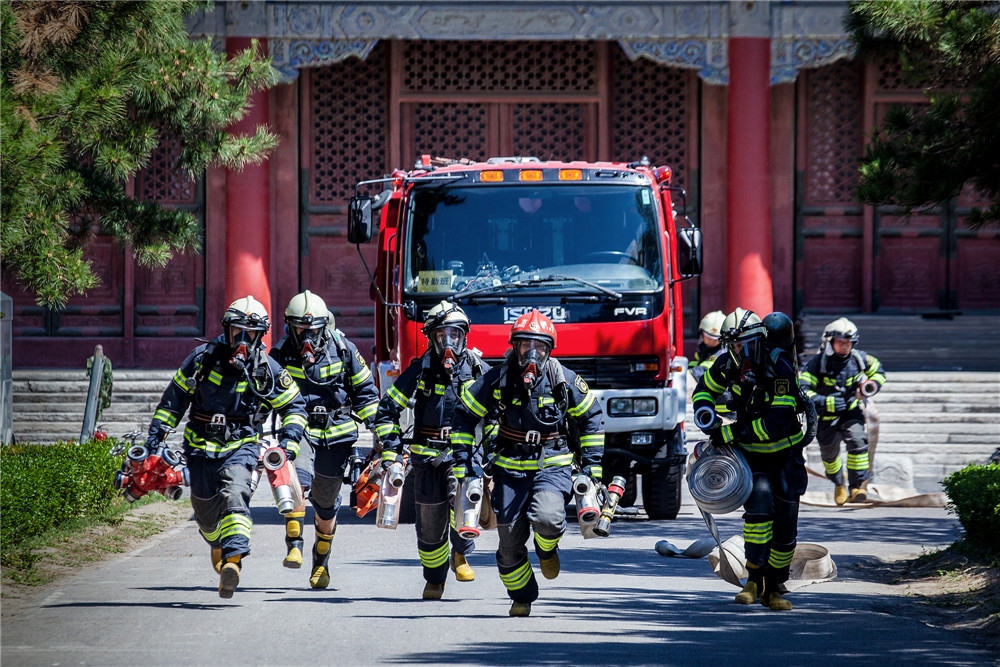 Drills are staged frequently at the Palace Museum in Beijing, where a team is stationed by the east gate to keep watch for fire in turn 24 hours a day.CHINA DAILY
50-strong prevention team keeps close watch on landmark
They are likely to go unnoticed by the multitude of visitors who pass the Donghuamen, or East Prosperity Gate, at Beijing's Palace Museum, also known as the Forbidden City.
A force of about 50 firefighters stationed in a courtyard by the east gate of the former imperial palace keeps watch around the clock for what is probably the biggest potential enemy of the world's largest wooden architectural complex: fire.
Du Yandong, 28, who leads a unit in the Tian'anmen Fire Squadron, has lived in the Forbidden City for eight years.
On Sept 3, he read that the 200-year-old National Museum of Brazil in Rio de Janeiro had been gutted by fire. More than 90 percent of the 20 million artifacts collected by one of the largest natural history and anthropology museums in the Americas was destroyed.
"I was dumbfounded and heartbroken," Du said. "I cannot imagine what would happen if the Palace Museum was on fire. Six hundred years of our history is here."
The group's job is to make sure there is no chance of such a disaster happening at the landmark.
The museum, used as the imperial palace from 1420 to 1911, covering 720,000 square meters, housed over 1.86 million cultural relics by 2016, according to the most recent inventory. The collection includes 42 percent of the registered national-level precious cultural relics.
Du's unit comprises six members manning a fire engine, with each in charge of a different firefighting job. They all rise at 6 am each day for practice. Running along the 3-kilometer moat at the Forbidden City is first, followed by more training in specific fields.